Newest Ultrasonic Tooth Cleaner
$3999

$39.99

Save $39.91
Tax included.
---
---
Get A Dentist-Approved Smile From The Comfort Of Your Home!
Everyone deserves a healthy smile! Get your friends and family the perfect gift for birthdays or Christmas! Have them step into a brighter tomorrow!
✔ WELCOME PEARLY WHITES: Having a shiny and healthy set of teeth has never been easier!
✔ PLAQUE NO MORE: Eliminate all tooth impurities and grin with pride! 
✔ CLEAN GALORE: Made to be portable, take it everywhere with you and show off a million-dollar smile!
✔ GIFT WORTHY OF A SMILE: Surprise your loved ones with the perfect gift for any occasion! 
Sometimes brushing & flossing your teeth just isn't enough!
Electric dental tools can effectively help remove stubborn teeth plaque and tartar from teeth.
You can use the electric dental tools to remove stains, tartar, bacteria, and debris from teeth and gums.
Regular care of teeth can reduce the generation of bad breath.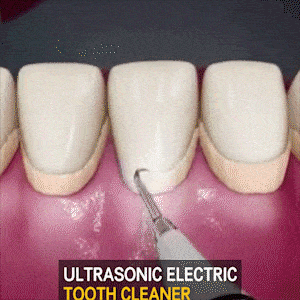 Don't let nasty plaque buildup ruin your breath and smile!
Coffee, tea, acidic foods and more can all contribute to yellowed, unsightly teeth.
Even worse, dentists agree that sticky plaque and tartar contribute to dental caries (cavities), bad breath and gum disease.

The Ultrasonic Dental Plaque & Scaler Remover has the following parts:
State-of-the-art, hypoallergenic cleaning headSoft medical-grade silicone handleAnti-slip strip5 Gears so you can adjust the device to your comfort levelOne-touch on/off switchUSB charging port (never run out of batteries)